Frame Straightening
Professional Frame Checking & Alignment Service
We provide motorcycle frame alignment checking and straightening to almost all motorcycles from classic to modern machines, rigid to swing arm models.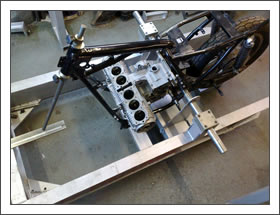 Our in house frame alignment jigs use a combination of traditional methods as well as more modern laser alignment technology, along with hydraulic rams, and other specialist tools we are able to reach a very high degree of accuracy when checking and straightening all motorcycle frames.
We have 30+ years experience, knowledge and a comprehensive list of machine measurements so you can be confident your machine is in safe hands.
Professional Frame Checking is Essential After a Heavy Accident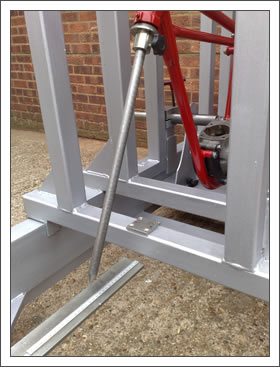 If your motorcycle has been in involved in a heavy accident there are often noticeable signs that the frame has suffered extensive damage (depending on the model) it would be common to see bent frame tubes, a twisted headstock and paint flaking off on classic machines.
As for modern aluminium frames any signs of damage are much less noticeable. If you cannot see any of these aspects DO NOT assume that your frame is OK. Even with our 30+ years of experience in this field, it is not always possible to tell if the frame is out of alignment just by looking at it.
For example the headstock of your frame could be only a few degrees out of alignment which would never be possible to see by the human eye. Being only a few degrees out of alignment can have a dramatic effect on the handling, tyre wear, and above all else rider safety.
Classic Motorcycle Frame Straightening
It is often the case that on some classic models the frame would not have been 100% straight the day it left the manufacturers factory...
With classic machines because of the age of the bike nobody really knows what has happened to the machine in its previous life so we ALWAYS recommend having the bike's frame checked before starting any restorations - a few pounds spent here could save thousands of pounds in the long run.
Swing Arm Alignment Checking & Adjustment
A major part of the frame alignment that often gets overlooked is the swing arm (if applicable). This can often be out of alignment and cause poor handling. With the machine in our frame jig, not only do we check the front area of the frame, we also fully examine the swing arm alignment.
If you want your frame checked or straightened first of all please gives us a call, we will try to establish a rough idea over the telephone of what needs to be done with your machine and if possible an approximate price for the job.
Frame Straightening Requirements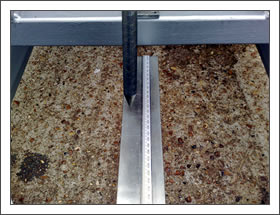 For us to check or straighten your frame in our frame jig the bike will have to be stripped down. All we will need in most cases is the main frame with the swing arm (if applicable) and rear wheel fitted. It is also useful to have the engine (or crankcases) mounted in the frame if possible (some models this is essential).
Depending on what motorcycle it is and what job we are doing, we may or may not need some of the parts mentioned so please contact us first. We do not need the forks or yokes for the frame straightening process but it would be sensible to have these checked at the same time. Find out more in our fork and yoke straightening section.
Please view our frequently asked questions (FAQs) for more detailed answers to common frame straightening questions.
Frame Checking Only. From: £75.00 + VAT