Work History
Reputable Motorcycle Engineers with 30+ Years Experience
When you've been professionally repairing motorcycles as long as we have, you have a few stories to tell. We thought we would share a few of our accomplishments with you.
National Motorcycle Museum - 1907 TT Winning Norton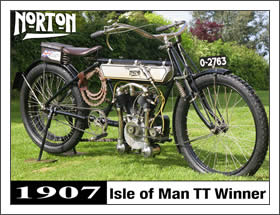 We have previously completed work for the National Motorcycle Museum, including work on the first ever Isle of Man TT winning bike.
The frame on this 1907 Norton machine was badly damaged and distorted due to the intense heat of the fire that destroyed much of the Museum in September 2003.
This was a rare job for us in that the bike unlike most we repair was not involved in a crash damage accident. With our experience, jigs and specialist tools we were able to straighten the frame back to its original state for the museum.
For more information see the National Motorcycle Museum web site, the IOM '07 Centennial Review and this article from MotorcycleUSA.com
Classic & Motorcycle Mechanics - January 1994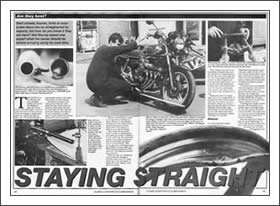 Journeying through the history books, we had a full article devoted to us in the January 1994 issue of Classic & Motorcycle Mechanics.
The technical article entitled "Checking It's Straight" featured our proprietor Alan Burdett and explained all about frame, fork, yoke and wheel straightening.
Classic & Motorcycle Mechanics is still available now, under the revised name Classic Motorcycle Mechanics Magazine, and back issues are still available. The issue we appeared in was No. 75 which you can see here.
Seton Tuning Race Team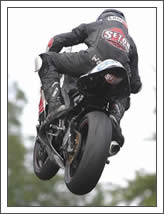 As well as repairing classic machines, we also do frame alignment for modern day racers and race teams, including Seton Tuning.
Seton Tuning specialises in 4 stroke engine tuning and race motorcycle preparation.
When they have a problem, and need a frame straightening due to crash damage, or aligning as part of their race preparation, we are the experts that the experts turn to!
More information about Seton Tuning & their race team can be found on their web site.