Motorcycle Workshop Facilities
Welding, CNC Turning & Fabrication
abba Motorcycle Engineering are able to take on a vast array of specialist engineering tasks. If you need a specialist or unusual part manufacturing we may be able to help. With over 30 years experience, our engineers have probably come across a solution to your problem.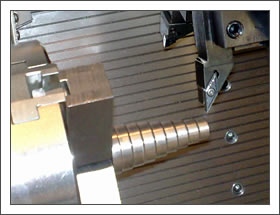 Precision CNC Turning
We have in house CNC turning facilities, with a state of the art "Colchester Tornado" CNC Centre Turning machine which allows us to program and machine any needed spacers, washers and other one off items from all kinds of materials including Steel, Aluminium, Stainless Steel, Acetal (plastic) etc.
This can prove extremely useful for customers who are restoring classic machines as some parts can be nigh on impossible to find.
Aluminium Welding & Steel Welding Facilities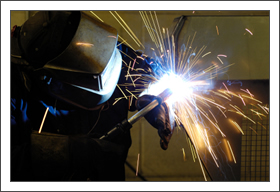 We are able to undertake many welding jobs with our Aluminium and Steel mig welders, which gives us a great advantage, as often, with many frame and wheel straightening processes, the need for small welding jobs becomes apparent.
This is particularly true where we do work as a result of accident damage, as many times the frame tubes can be dented and need to be weld filled.
Also, damaged brackets can be welded back into place.
Miscellaneous Jobs
With all of the above equipment and machinery mentioned and our vast knowledge of straightening, and engineering experience we are also able to offer many other small "not so common" services and processes, some of these include.
Straightening wheel spindles
Welding and straightening brackets
Sleeving and curing elongated holes
Welding centre stand lugs
If you think there is any other job we might be able to help you with please do give us a call. If we cannot help, there is a good chance we can steer you in the right direction to someone who can.
Welding, CNC Turning, Fabrication: Please call for prices.